Museum Exhibits

At present Museo Sang Bata has 5 permanent exhibits, which include the main exhibit "Under the Sea", Splash Zone, Hampanganan Room or Toy Room, Everyday Heroes Exhibit, and JGM Memorabilia and Library.
Museum Programs

Through its various programs, the MSBN is slowly helping transform the local communities' attitude towards the environment. Its flagship program is , "Marine Conservation Education Program" where public elementary science teachers undergo training.
A Marine Museum For Kids

MSBN is a premiere children's hands-on museum that will awaken and stimulate the creative and intellectual potential of children allowing them to discover, understand and appreciate themselves, others, their environment, their culture and the rest of the world.
What's Up?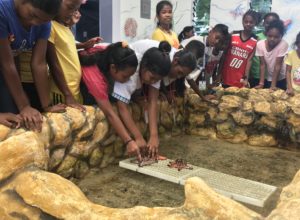 Sponsor-A-Museum- Visit Program
Sponsor-A-Museum- Visit Program School: 30 Ata Community from Manara Elementary School, Brgy. Manara Sagay City Neg. Occ. Sponsored by:  Sagay Water District
Every Little Bit Helps

Be part and help the Museum carry out marine educational programs and climate change adaptation seminars for children and adults, design attractive exhibitions, and raise awareness and appreciation of our marine resources.